Email Hippo wins Tech South West award for International Success
It's supposed to be all about the taking part rather than the winning - but to be honest, we're thrilled to have won an award that's judged by our peers in the tech industry. It means a lot for us to be given this award by people who understand the challenges and joys of successfully growing a software business in a worldwide market.
The Tech South West Awards showcase the best of all the 12,000 technology companies in the South West, covering the country from the far west in Cornwall (where we are located) up to the edge of London. It's a hotspot area for technology and innovation, with Cornwall often dubbed the 'Silicon Valley' of the United Kingdom. Our fellow shortlisters all looked like winners to us - so although we were hoping for the best, we were getting ready to put a brave face on.
Cheers all round though as Email Hippo was announced as the winner and it was time for celebrations!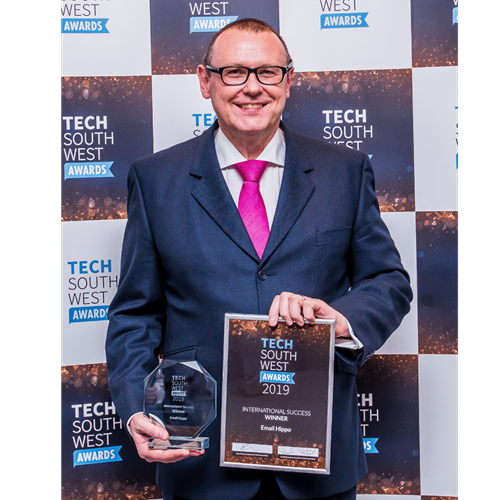 Rowland O'Connor, CEO Email Hippo collects the award for International Success 2019.
So what do we think tipped the balance for Email Hippo?
Services provided with a 99.99% uptime in over 70 countries

Maintaining our position in an increasingly competitive market

Profitable and growing every year

Privately funded and following our own strategic direction

A team that spans five decades and works flexibly

Supporting the local community and playing a part in raising the bar for technical solutions
We've been inspired by being part of this celebration of the technical industry and we'll share more ideas and experiences in future blogs.