What do we tell you about your emails?
Here's a quick spin through the properties that we report on when you upload a list to your dashboard.
One Time Lists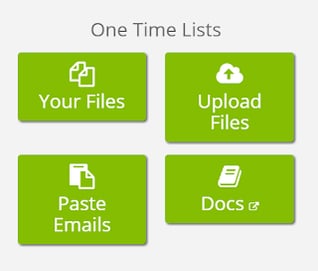 One Time List Dashboard options
When you send us a list of emails we take great care to give you your data back in the same order it arrived in. We simply add 5 columns to the end of your data. The columns show you the following;
1. Confirmation of the email address we checked
2. Status (OK / Bad / Unknown.)
3. Additional status information
4. Domain country code
5. Mail server country code
These 5 columns give you the information you need to clean your email lists. In addition it helps you cross check the location of domains and mail servers, which may be useful information to you commercially.
Learn about why email verification is essential for your business
For all lists, we provide dynamic, useful reports that give visual information about your list and the characteristics of the email addresses.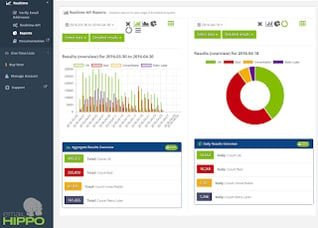 Our development process includes further property reporting, to ensure the information we give helps customers make informed business decisions. We're especially active in developing properties that help customers counter fraud.
If you're curious about the additional information we provide for each status, read about our codes here.