Over the years we've received news by email that has made us happy. But a few weeks ago we received the best email ever. It began like this;
I am delighted to inform you that Her Majesty The Queen has approved the Prime Minister's recommendation that your company should receive a Queen's Award for Enterprise in the Innovation category this year.
Seriously. Best. Email. Ever.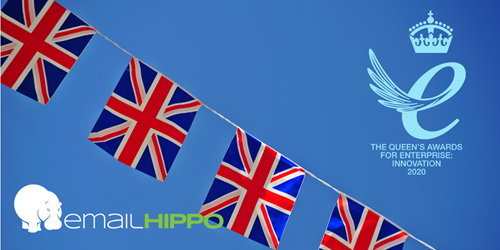 What is a Queen's Award for Enterprise?
The Queen's Awards for Enterprise are the most prestigious business awards in the UK. The awards were first established in 1965 and since then over 7,000 companies have achieved a Queen's Award. We are one of 66 companies to receive an award in the Innovation category, out of the 220 companies receiving a Queen's Award this year.
The awards celebrate the success of exciting and innovative businesses which are leading the way with pioneering products or services, delivering impressive social mobility programmes or showing their commitment to excellent sustainable development practices.
Breaking good news in the middle of a pandemic
The news was under embargo for a few weeks, until the official announcement was made today. (April 21).The embargo period gave us time to work on content and plans so that we would be able to quickly thank our customers and suppliers once the news broke. And most importantly, work out how to break the news and celebrate with a team that's split over various locations, all working from home!
During the embargo period, we weren't even allowed to tell colleagues, which was really hard as the news came right in the middle of the first three week lockdown in the UK to flatten the curve of the coronavirus, when everyone could have done with a good news story.
Now the news is out, we're so happy to share it. We're looking forward to building on all the effort it took to get here and develop more services to help businesses grow, protect themselves from fraud and reach out to their customers more effectively.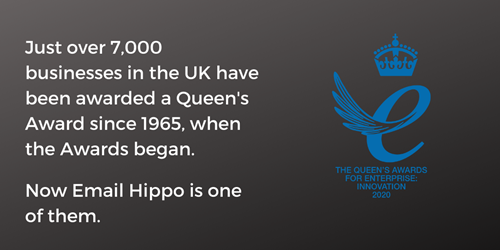 We're thrilled and happy to be able to thank our team, our customers and our suppliers for all their support. Receiving this Award is such a massive milestone for Email Hippo.
What did we receive the Award for?
We received the award for innovation for our email verification API, MORE. Specifically, the innovation related to how we used MORE to prevent fraudulent attacks in our own processes, before refining it and making it available worldwide.
Part of the innovation that's been recognised is the Email Hippo Trust Score. That's our unique scoring system that grades every email address checked as to whether it's possible to send an email to it, and whether it's safe to do so.
What does the Queen's Award mean for our customers?
Have you ever been horse-racing? It's good to feel like you have backed a winner. For our customers, the Queen's Award is a big 'tell' to assure them they made the right choice when they looked for a company to trust with their data.
What does the Queen's Award mean for our suppliers?
It means you're part of something special. We choose suppliers carefully, and we rely on them to deliver services that enable us to deliver on our promises. All our suppliers get a glow from this award. Thank you.
What have we got to say?
It's weird celebrating when we aren't in the same place, but there will be plenty of photos and videos shot in home offices that will help us be together with a glass of bubbly and a grin.
"I am absolutely delighted and humbled for Email Hippo to receive The Queens Award for Enterprise: Innovation 2020. This prestigious award recognises our contribution in helping the world's email system work a little better." Rowland O'Connor, CEO and Founder. April 21, 2020.